Another project nearly complete!  Joy of Life Ministries on North 56th Street is nearing completion.  The Certificate of Occupancy Inspection is scheduled to take place in the next couple of weeks.  It's going to be a great place when it's done!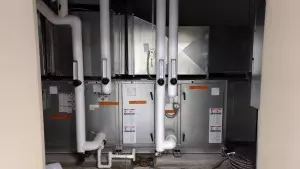 As for the HVAC side of things, this project includes the installation of a custom-built Daikin Vision air handler with hot water and cold water coils, two RenewAire energy recovery units, a CaptiveAire kitchen hood, a gas-fired make-up air unit and two Lennox heat pump split systems.  All of this will be controlled by a Honeywell LON control system.
There's a lot of equipment going on here.  See the definitions of each of the HVAC terms used above in our newly-published HVAC dictionary!