Compressed air.  Air compressors. Pneumatic equipment. Call it what you want, the concept is actually incredibly simple.  And it has a very wide variety of applications.
Compressed air is an essential component in virtually all manufacturing, packaging lines and equipment service.  From running power tools to providing force to move product from one place to another, air is needed in many areas.
We're here for  every part of you pneumatic needs.  Whether you're looking for service, replacement or just someone to discuss options with, we're available for you.
Pneumatic Maintenance – P365NEU
Firstly, just like our HVAC preventive maintenance programs, PNEU365 offers several modules of maintenance to ensure your compressors are in top working condition. Select the level of maintenance that best fits your team's needs and we'll schedule regular checkups on both the air lines and the compressor itself.

Pneumatic Service
Then, in case something does go wrong, we're here on call to help you get your compressor(s) back up and running. Minimal downtime is everyone's goal, and we're on your side with easy access to parts and diagnostic knowledge. As always, PNEU365 service assures you priority service from your pneumatic technician.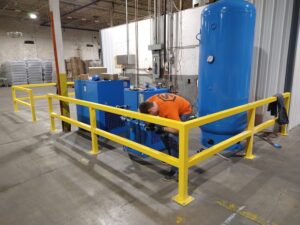 Pneumatic Controls
Getting the most out of your compressor is just as essential as the efficiency of any part of your business. Proper engineering and controls are key in making sure whatever compressor you have gives you 100% performance. With valuable experience in pneumatic controls, our team will help you get compressed air when and how you need it.

Pneumatic Replacements
Old compressor? Out of capacity? New production venture that requires compressed air? We've got you covered. Speak to a SyncQuip representative for a comprehensive evaluation of what your compressed air needs are. With a plan in place, we'll take it to installation and completion as quickly and smoothly as possible.

Pneumatic Installation
Additionally, we don't expect you to know how to install an air compressor. That's why we offer installation with the purchase of new equipment for our clients. We will ensure that the system is working as expected from day one so that you don't have to worry about it.
Who We Serve In Compressed Air
Finally, the most important part.  Like in HVAC, we serve the greater Omaha NE area, as well as the surrounding cities in a 90-mile radius.  We service virtually all brands of air compressors and equipment, although our focus for new install is the PneuTech brand.  When you're ready to get started, give us a shout!  We are here to serve your air requirements.   🙂